ASP Colloquia
The Atmospheric Boundary Layer:
Integrating Complexity Across Disciplines

July 17-28 2023
Every year, the Advanced Study Program hosts a summer colloquium designed for graduate students on subjects that represent new or rapidly developing areas of research for which good course material may not yet be available. The colloquium brings together lecturers and graduate students to NCAR and generally includes about 25 student participants, and several lecturers from NCAR and the community at large.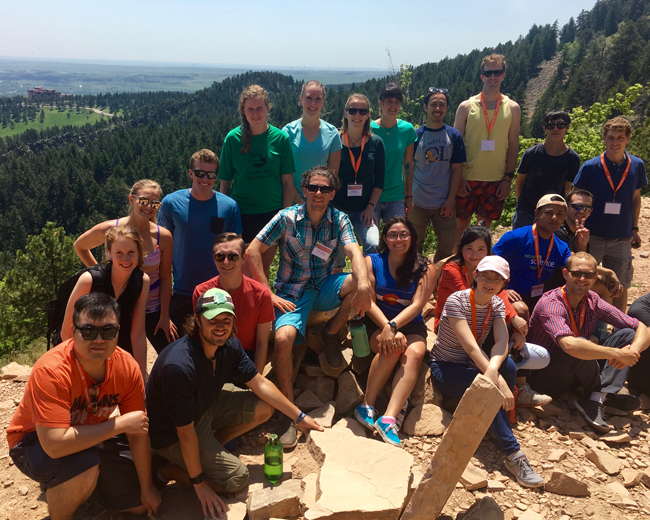 The Atmospheric Boundary Layer: Integrating Complexity Across Disciplines
In its lowest 1-2 km the atmosphere responds directly to the Earth's surface and is the primary region where humans live and interact. A fundamental understanding of the non-linear processes determining the ABL's coupling between the overlying free troposphere and the systems at its lower boundary (e.g., biosphere, hydrosphere, pedosphere, etc.) is critical for informing societal needs that involve water, agriculture, transportation systems, air quality and energy sources.
Overview:
The focus of this year's colloquium will be on the integrator nature of the ABL. An integrator of processes that determine momentum, heat, moisture, and trace gases, but also as an integrator of scientific disciplines. Through a series of lectures, practicals and hands on instrumentation activities we aim to bring together theory, process-scale modeling, large-scale modeling and observation in order to form a more complete understanding of the ABL. Transportation, lodging and meals will be provided to all students selected to attend.
Expected Outcomes:
University community researchers will gain an in-depth understanding of the importance of the ABL through an inter-disciplinary approach to learning. The hope is that students will be encouraged to take on ABL-related science problems and apply an integrated philosophy of learning to their own research.
WHO IS ELIGIBLE TO PARTICIPATE?
To qualify, applicants should be a graduate student at the time of applying.
Applicants should be enrolled full-time in a masters or PhD program in the atmospheric or related sciences.
U.S. citizens and non-citizens are welcome to apply.
Note: Please be aware that all applicants selected to the ASP Colloquium are expected to adhere to the UCAR Code of Conduct while participating in any NCAR/UCAR led activity.
We encourage applications from individuals who are members of a group that is historically underrepresented in the atmospheric and related sciences, including students who are black or African American, American Indian or Alaska Native, Hispanic or Latino, female, first-generation college students, veterans, and students with disabilities. The program welcomes lesbian, gay, bisexual, and transgender students. 
The Advanced Study Program seeks to involve students from groups that are historically underrepresented in the sciences, including Black or African-American, American Indian or Alaska Native, Hispanic or Latino, female, first-generation college students, veterans, LGBTQ+ students, and students with disabilities. 
Contact
Please direct questions/comments about this page to: